A Healthy School = Enhanced Educational Performance
Whether COVID-19 infection rates increase or decline, preventing virus transmission is still a major concern in Canadian schools. Many schools struggle to afford regular cleaning and disinfection services to prevent infections because of limited funds.
It is crucial for teachers, staff, students, and parents to prioritize classroom cleaning and the cleanliness and the use of disinfectants throughout educational facilities. This is because of concerns about the spread of diseases and new viruses. Air purifiers and HEPA filters reduce airborne disease pathogens. Cleaning and disinfecting surfaces is crucial to prevent the spread of illnesses and diseases through touching potentially infectious surfaces.
School administrators know the importance of cleaning services for their schools and educational facilities. And, the need to be able to depend on a reputable and professional commercial cleaning services company.
At ServiceMaster Clean Mississauga, we understand the importance of maintaining a clean and healthy environment in schools and educational facilities. Our cleaning professionals are well-trained. We promise to provide great cleaning and sanitizing services for schools and that these services go beyond the usual level of care.
We recognize that educational institutions are high-traffic areas where germs and bacteria can easily spread. Therefore, we prioritize thorough cleaning and sanitization to ensure the well-being of students, teachers, and staff. Our cleaners use modern tools, methods, and eco-friendly products. They can remove dirt, dust, allergens, and harmful germs from all areas of the building.
We clean everything in schools, like classrooms, libraries, labs, lunchrooms, bathrooms, hallways, and offices. We clean frequently touched surfaces like doorknobs, light switches, desks, chairs, and keyboards to reduce the chance of spreading germs.
We clean schools and offer specialized services for their unique needs, including classroom cleaning, dusting, vacuuming, mopping, trash removal, and more. This may include floor stripping and waxing, carpet cleaning, window washing, and deep cleaning of restrooms and kitchen areas. We can customize our cleaning schedule to accommodate your school's specific requirements, whether it's daily, weekly, or monthly cleaning services.
At ServiceMaster Clean Mississauga, we prioritize the health and safety of everyone in the educational facility. Our cleaners follow rules from Health Canada and Occupational Health and Safety (OH&S) for safety and quality. We constantly train our staff on the latest cleaning protocols and best practices to ensure optimal results.
Choose our cleaning services for schools and feel confident that your educational facility is in good hands. We promise to provide excellent cleaning services that go beyond your expectations. We will handle cleanliness, so you can concentrate on creating a safe and positive learning environment for your students.
With around-the-clock availability and clear communication, we respond to all requests and requirements quickly and efficiently. We provide consistently reliable and efficient service, every time.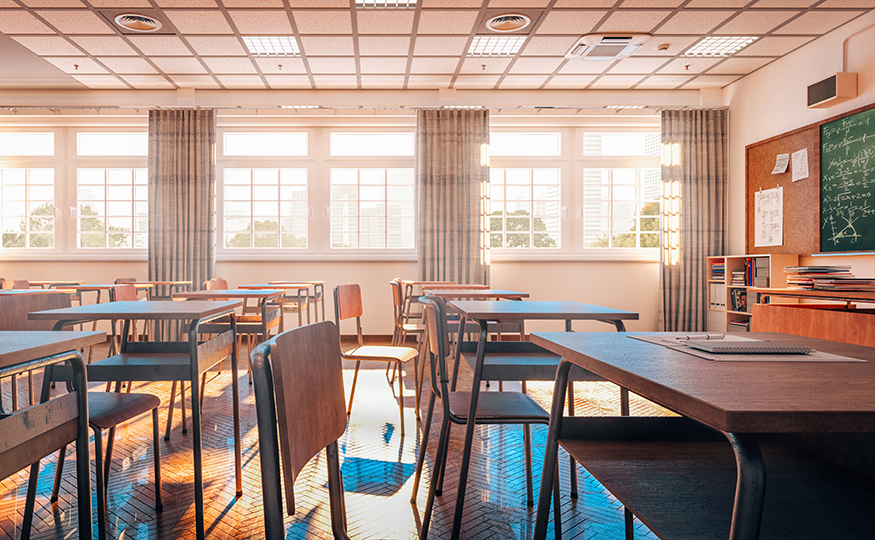 STATE-OF-THE-ART CLEANING METHODS
ServiceMaster Clean Mississauga provides thorough and efficient educational facility cleaning and sanitizing processes. This will deliver cleaner, healthier and safer environments for educational facilities. Our patented systems and methods also reduce the time required for cleaning and disinfecting procedures, ultimately saving you money.
The ServiceMaster Cleanís exclusive Capture and Removal Cleaning® system combines advanced equipment and microfiber technologies with a proven process to trap and remove dirt. This state-of-the-art system dramatically decreases and reduces the number of airborne particulates, volatile organic compounds (VOCs) and bacteria. Cleaner air leads to healthier indoor air quality, making students and teachers happier and more successful.
ServiceMaster Clean follows the guidelines of health agencies like Health Canada for its cleaning and disinfection products and methods.
BENEFITS FOR YOUR SCHOOL
ServiceMaster Clean Mississauga cleaning and disinfection services for schools and educational facilities will:
Provide a cleaner, safer educational environment
Improve indoor air quality
Reduce risk of infection
Reduce sick-day absences*
Reduce environmental contributors to asthma
Enhance students' educational performance*
Influence positive attitudes toward the school and green cleaning**
Offer assurance and peace of mind for students, parents, educators and administrators
*Source: Healthy School Environment and Enhanced Educational Performance, The Case of Charles Young Elementary School, Washington, D.C., Carpet & Rug Institute, January 2002.
**Source: Dr. Michael A. Berry, PhD
Did You Know?
What insurance do you have?
We carry General Liability insurance and Workman Compensation coverage. This is to protect you against damaged property or injury to person while our staff is on your property performing janitorial cleaning services and other commercial cleaning services.
Are all your employees background checked?
We recognize that security and trust are a paramount concern, so at ServiceMaster Clean Mississauga we have taken an added step to help ensure compliance with customer needs by developing the Clearance Chek'd certification program to help preserve the peace of mind of our customers. Clearance Chek'd is a high-level Police and Criminal Record Check combined with Identity and Previous Employment Verification. Janitorial staff working on your cleaning program will have (ID verified & clean criminal record) clearance via this Program.
What steps are taken to safeguard our building security?
ServiceMaster Clean understands the critical importance of office security and prides itself on complying with our customers' requirements. ServiceMaster Clean enforces a strict policy regarding all keys and security passes issued. Our employees wear a Company Uniform and have ID Badges so they are clearly identifiable at all times while on the job.